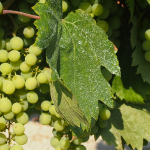 Harvest means trembling leaves tending to the colors of autumn, golden or orange colors and hearts hunched and hopeful. With the beginning of autumn and the first rains, the moist soil mixes its aromas with the aromas of ripe grapes. The wind sweeps great white clouds, which contrast with the intense blue sky. The atmosphere is cheerful; the harvest is a tradition that is repeated every year, with the unaltered peasant spirit, typical of our region.
2018 has been a rainy year especially in spring, more specifically in the month of March, where the data mark a high rainfall. From the agronomic point of view, the development of the vineyards, initiated under the best auspices, was conditioned by a strange climate that altered the frosts, the rains and the humidity. Therefore, it will be the year in which the capacity of our winemaker will make a difference in the result.
The recent lowering of temperatures has helped to increase the good quality of the grape and its maturation, after a long period of excessive heat. This has allowed the ripening cycle to slow down to ensure a good harvest development.
Due to the weather conditions that our vineyards have suffered, a reduction in the harvest is expected, which will not affect the quality. In fact, the grape enjoys a great balance between freshness and maturity. The phytosanitary status is optimal and we hope that by dedicating the appropriate efforts and pampering each grain of the cluster with the same affection, we will obtain excellent wines and cavas. The harvest, which began on August 11th, seems definitely better than last year, where the drought had staged the entire vintage.